We've shipped a bunch of big updates lately. Here is what's new!
New notification message feature! This will allow us to let you know when new improvements and features are added
Major Leads updates (see below)
Major Estimates updates (see below)
Now you can email an intake form
Enhanced google calendar sync. Now it is fully two-way.
Ticket "Problem" has been renamed to "Issue" throughout the app
Fixed a handful of user reported issues along with bug fixes and small enhancements
Leads
We added a dashboard and statuses. Now you can collaborate a little easier by updating a status, mark them as lost when you want them to move to the completed pile and out of the "inbox".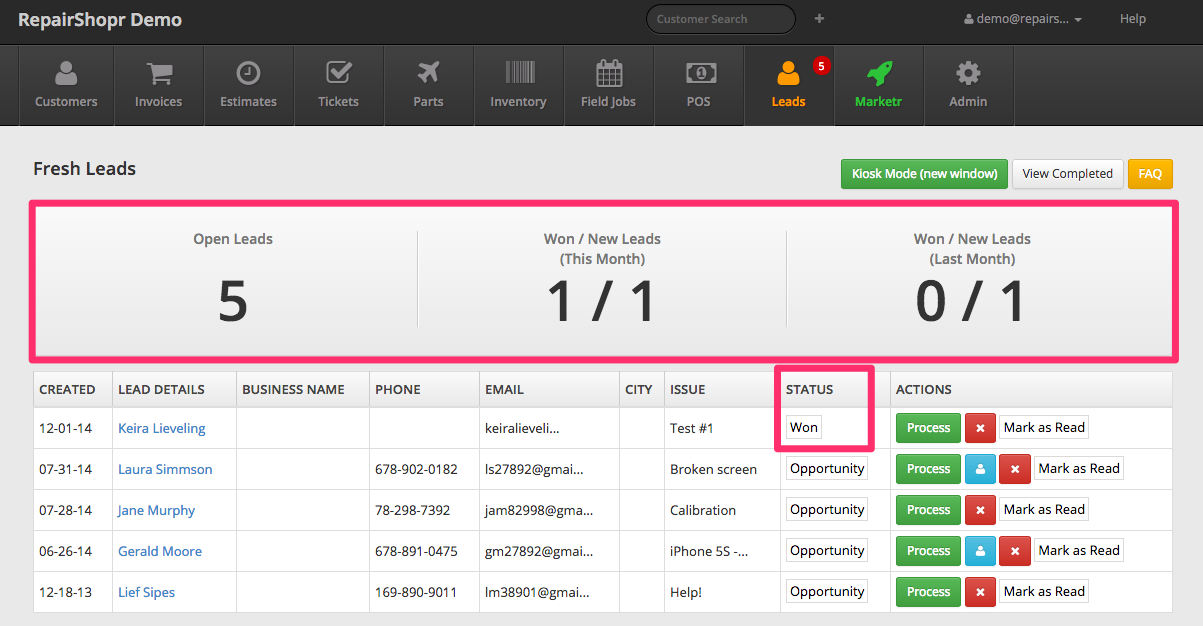 Estimates
We added lots to the Estimates system. Here is a summary;
You can now add custom email messages like on invoices
We added Declined status
You can now have customers Approve or Decline in the portal
There is a new admin dashboard on top of the estimates page
We added a new terms and conditions template to estimates, so it doesn't borrow from invoices
A new Draft status will hide the estimate from the customer portal
There is a button in Settings -> Estimates to mark all estimates older than 30 days as Declined to clear them out
Status updates flow through to the ticket
More icons and stamp images for the statuses
Thanks for everyone that submitted feedback on our forum!
– The RepairShopr Team