Hey everyone – we are super excited to announce a whole smorgasbord of improvements!
Some of these will surely benefit everyone, but the theme was really geared at IT Pros/MSP customers that have been asking for these things for a long time- some of these for a year or more at this point.
TL;DR – tons of new stuff, Late Fees, SLAs, appointment types, multiple addresses for customers, custom intake forms, and more 🙂
Service Level Agreements (SLAs) 
SLAs are a highly requested feature that we've wanted to at least have a basic version of, and here it is. Now you can create a rule like:
Tickets for XYZ customer must be touched in an hour, and resolved in 4 hours, or they escalate to someone
You will also be able to attach a contract or SLA to a ticket for reporting purposes. (reports coming soon)
The notification center was updated with a new notification for "SLA Breach".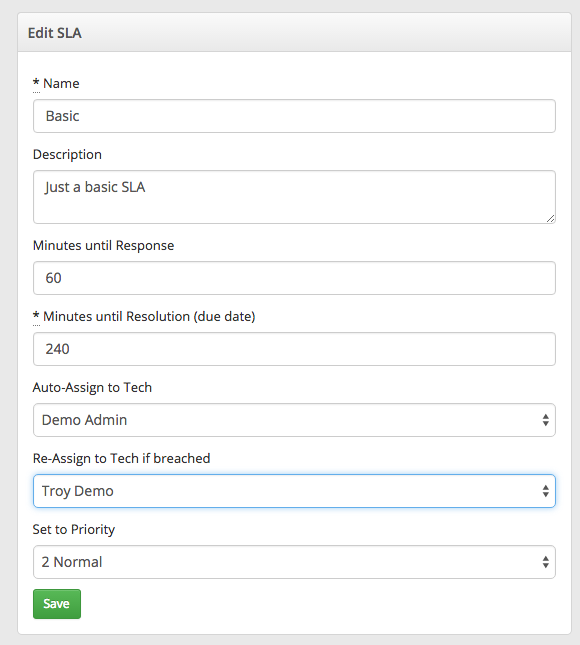 You can check out our recent updates to the knowledge base here SLA Service Level Agreements for your Customers
Custom Contracted Labor Rates
This feature turned out being a little more powerful and simpler than we anticipated, on a Contract you can just select products and their new "override" price. Now when you sell this product(or labor/etc) it will use this override price.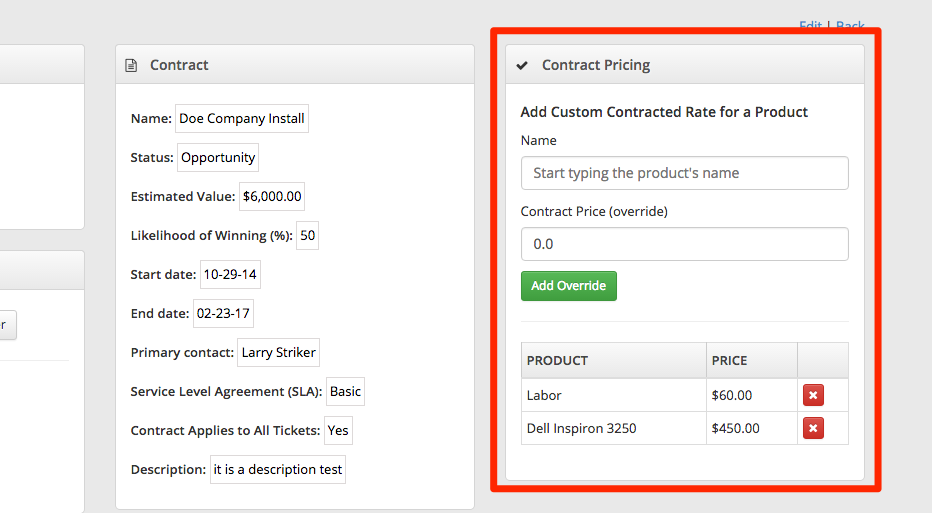 You can check out our recent updates to the knowledge base here Contract Management
Invoice Automatic Late Fees
Now you can configure "invoice payment terms" to include late fees automatically. Just put a fixed amount or percentage on the terms, and we'll do the rest!
It will add a new line item to the invoice with the late fee on it so it's easy for you to remove it if you want, and easy for the customer to see it. You can configure a new notification rule to trigger when late fees are adjusted so you can keep tabs on them easily.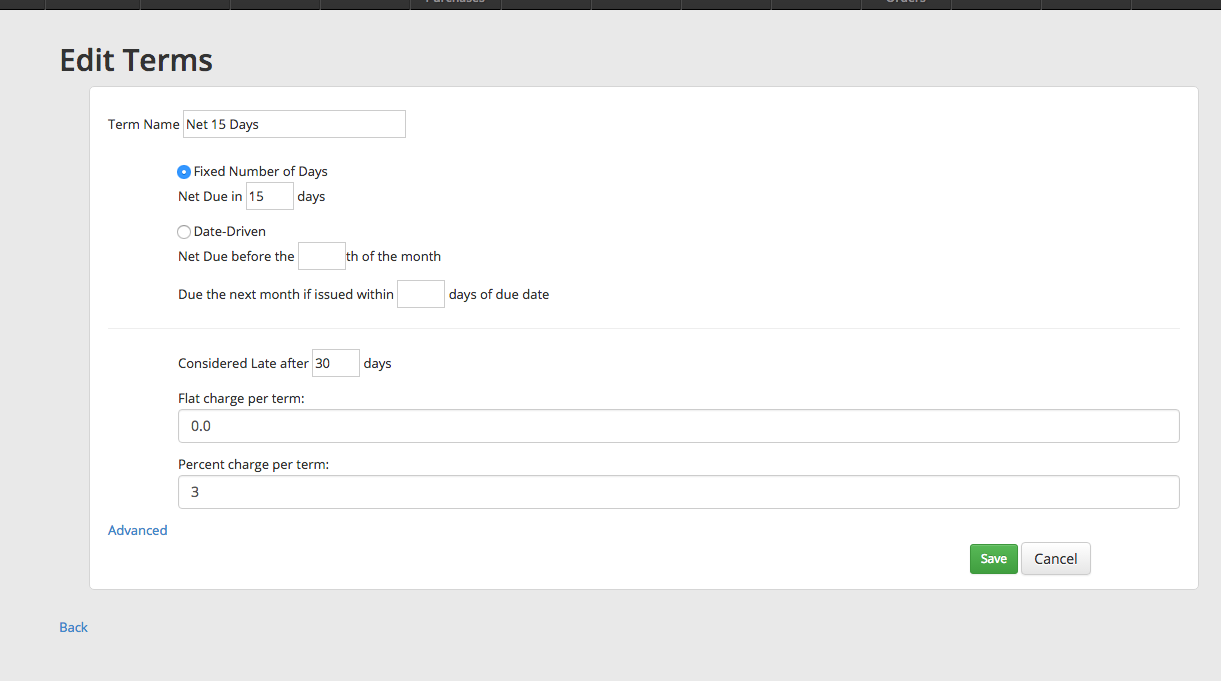 Use It Or Lose It (Prepay Hours)
Now if you are selling prepaid hours to your clients, and you want them to expire every month, you can do that!
Just check the box on the recurring invoice edit screen to reset them and every month when that invoice runs it'll put them back at zero beforehand.
Appointments: Custom Types with Instructions & Ability to schedule non-customers
First up, on the calendar page you can now create an appointment and not select a ticket. Works as expected!
Then, you'll probably notice a new option on the new appointment screen. "Appointment Type"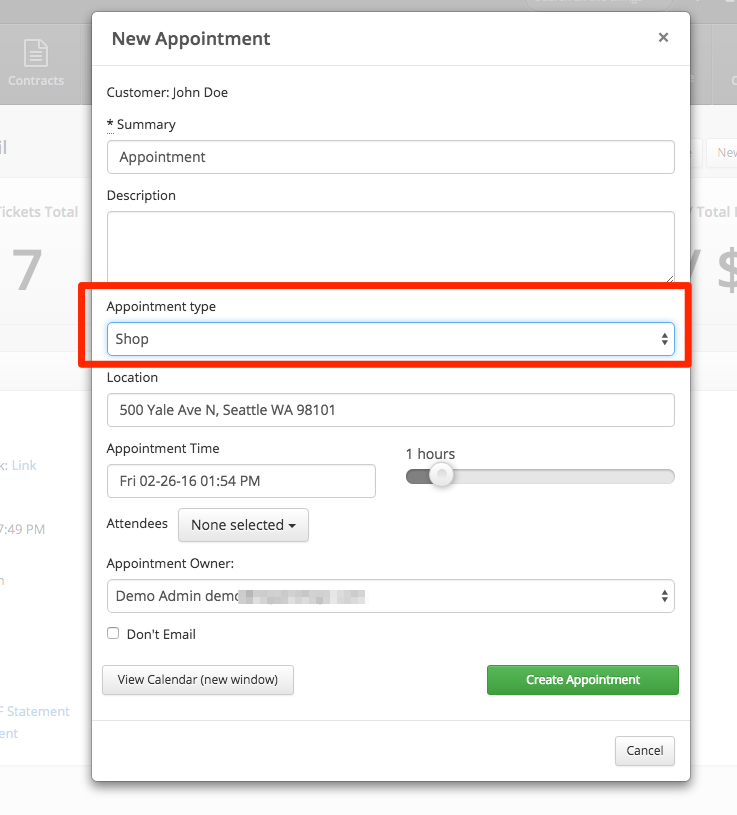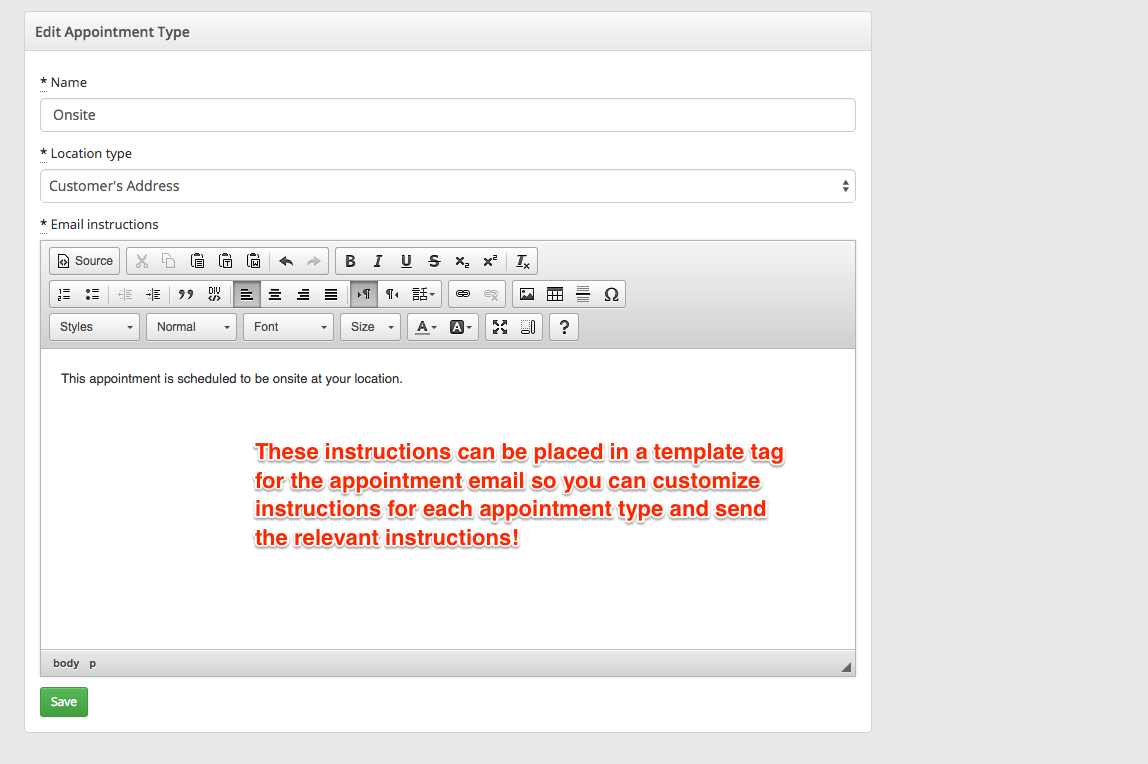 Customers: Multiple Addresses, and showing Contracts/Recurring Invoices on detail page
Now when creating a customer you can setup multiple addresses. You could add a "Bill To" and it will show up on the invoices, and add multiple other addresses that can be selected on Tickets/Appointments.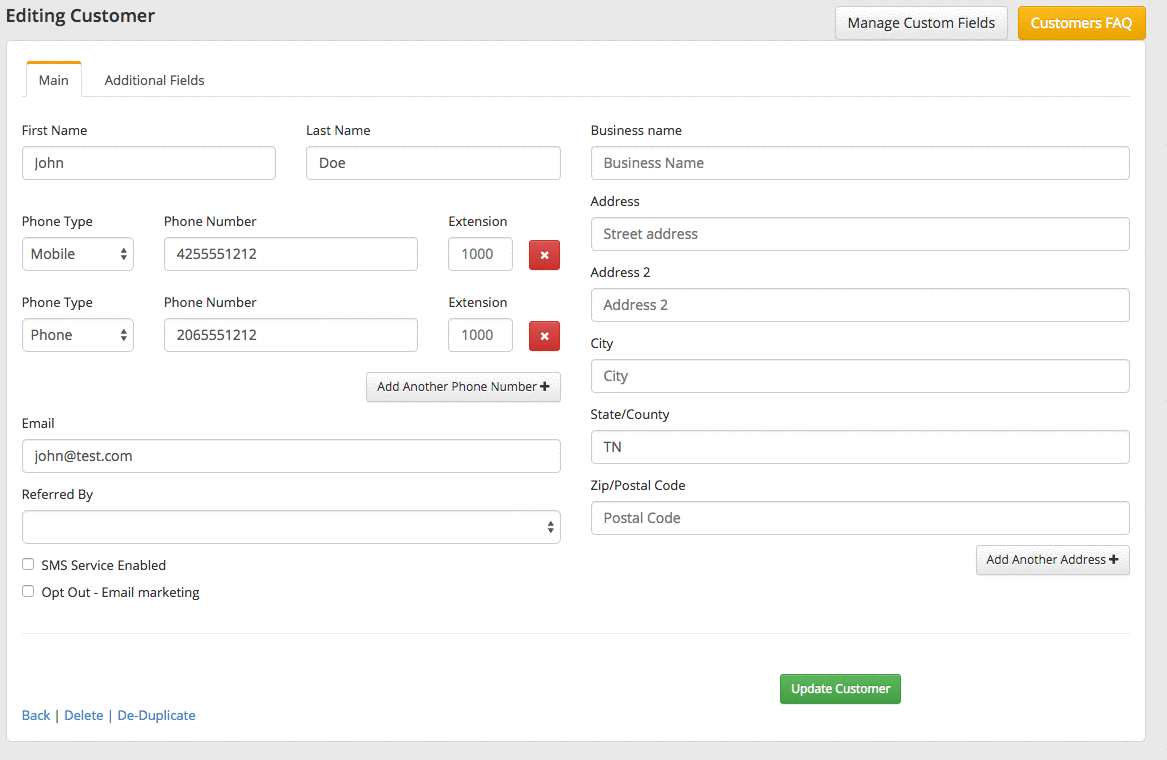 Contacts – Import via CSV
Now you can bulk upload Contacts into the system via csv import.
There is a new link on the customer detail page – check it out.
Asset Dates
Asset tracking has always been there, but the date feature didn't have a good alert or filter. Now you can setup an Asset Type like "SSL Certificate", "Domain", "Server", etc – and put a custom field on all of them called "Expiration Date". Then you can use the new Notification Center rules for 30 day and 7 day alerts on those dates.
Soon the assets page itself will have good date search filters too – right now beta users can see last 30/90 days, and next 30/90 days as a proof of concept.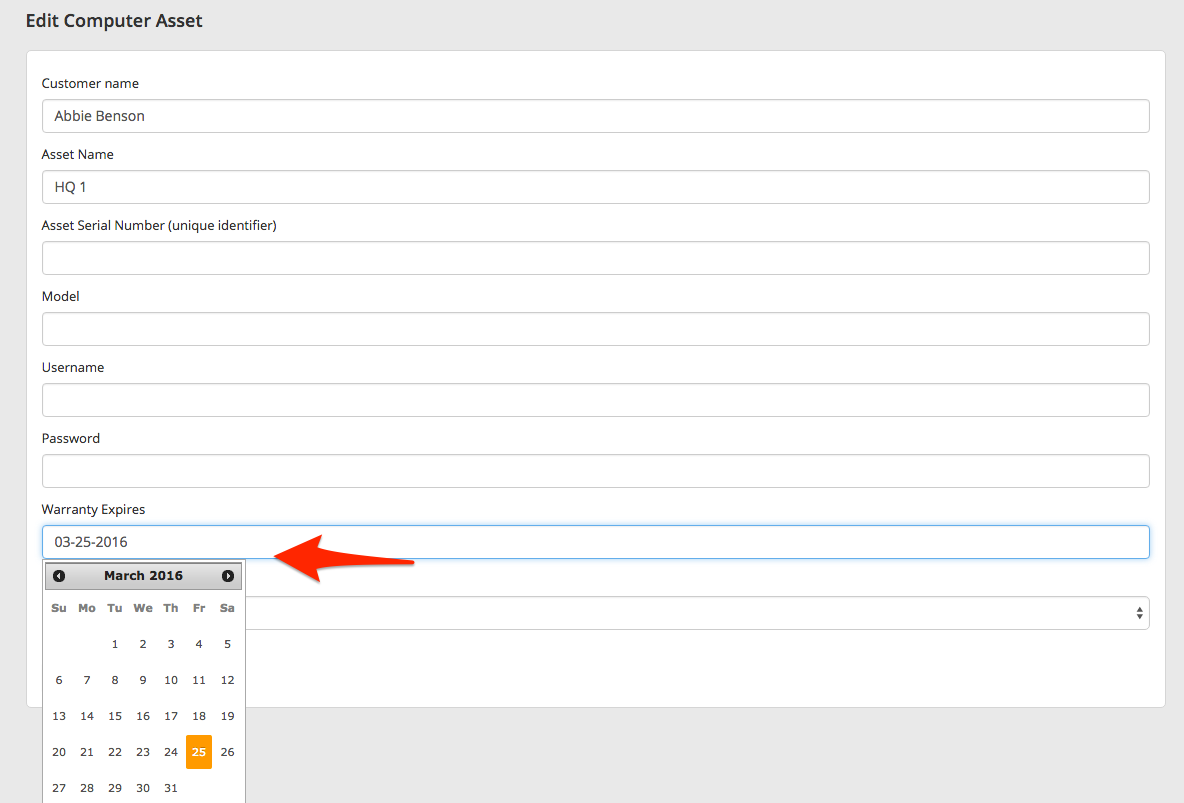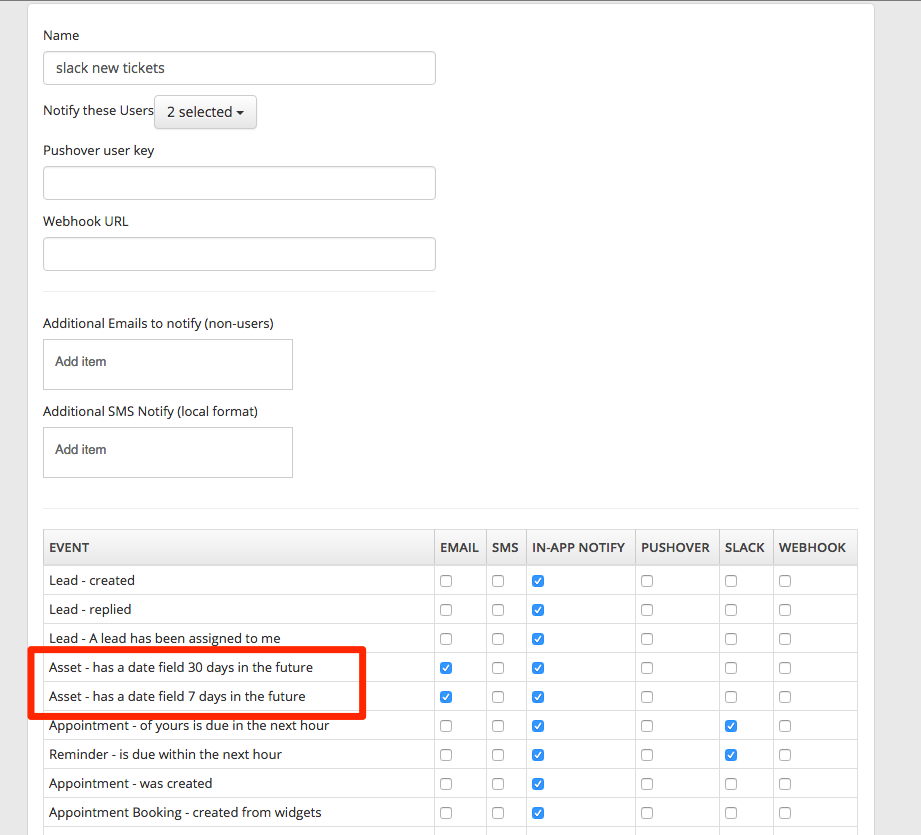 Ticket Intake Form Improvements
Now you can specify custom Terms and Conditions for the Intake Form based on Ticket Custom Field types, or have it skip altogether based on the ticket type.
Head to Admin, Ticket Types, manage fields (for one of them) and look for the advanced link.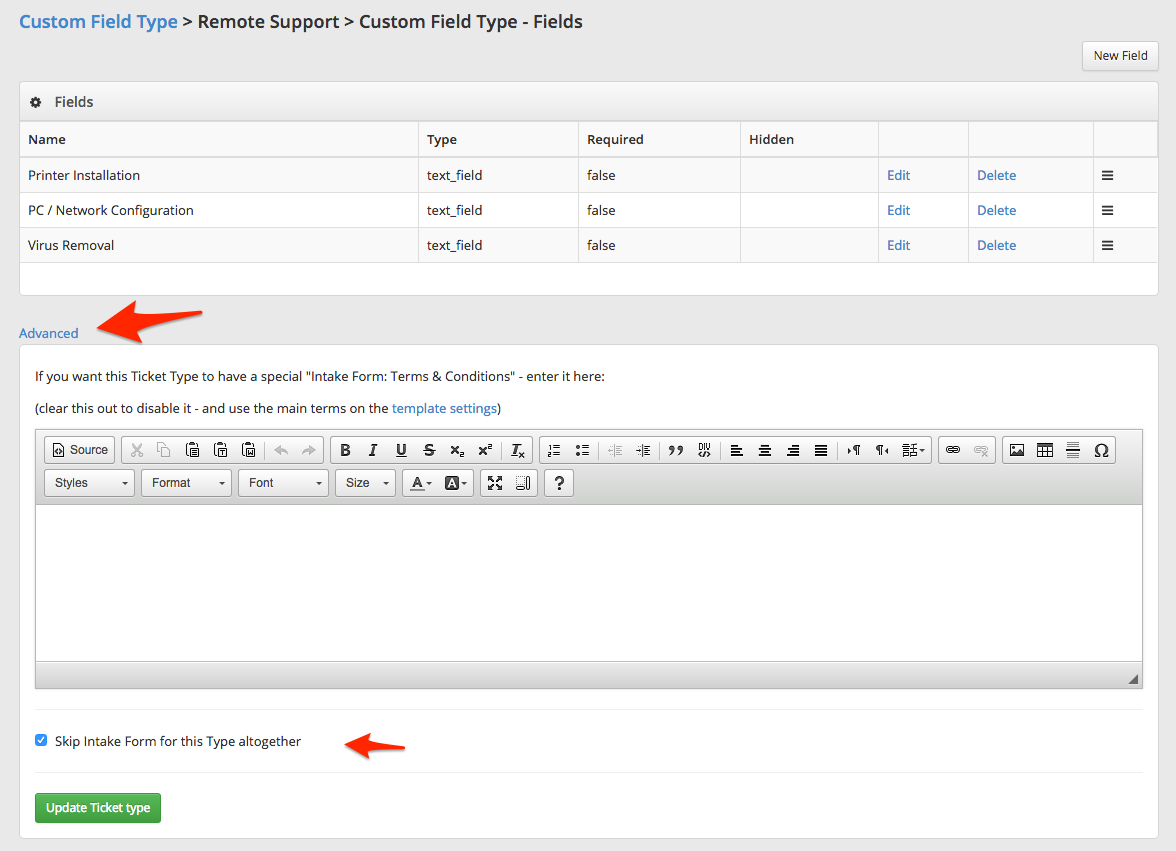 Whew!
We will be making small adjustments to these features over the coming weeks, so be sure to give feedback in the forum.
Thanks everyone who's been waiting on these – and to all the great suggestions we got that drove much of this.
-RepairShopr Team