Hey RepairShoprs – Happy Feature Friday!
Today we're sharing some news about one of the first modules we ever developed for RepairShopr – Marketr.
Before Troy started RepairShopr, he owned a repair shop, and he really disliked sending marketing emails to customers. It was time consuming, he felt like he was bothering people, etc. However, each time he did it, he'd always get responses from people needing more work, which in turn generated more revenue!
In building RepairShopr, we wanted to make sure it was incredibly easy for you to send automated emails to your own Customers as well.
Marketr is an automated email marketing tool we built to help users like you bring in more revenue. By sending plain-text, authentic emails that are customized to each of your Customers, you're able to stay top-of-mind, provide great customer service easily, and generate repeat business.
We recently made some powerful improvements to Marketr, allowing you to now:
Send email campaigns to a portion of your Customers based on a saved Asset search, in addition to saved Customer searches.
Use Marketr to email Customer Contacts, in addition to the primary email address on the account.
View even more valuable stat information, giving you an idea of how well your campaigns are working.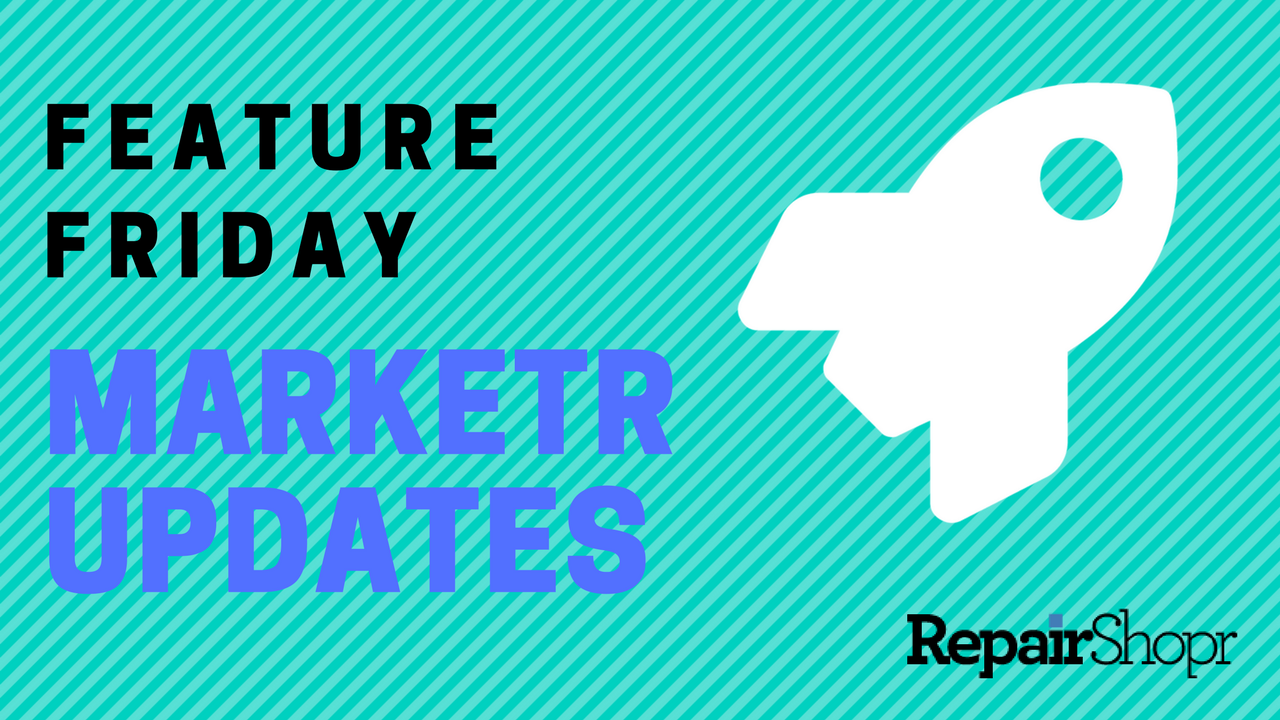 If you're new to RepairShopr, or simply haven't taken advantage of the Marketr feature yet, you should. You have the ability to create automated Customer follow ups right at your fingertips, bringing in more revenue for your business at the click of a button. The best part is, it's all from directly within RepairShopr.
Let's dive into the improvements we've made:
Send emails based on saved Asset searches
Similar to Customer saved searches, you can now send email campaigns targeted at a certain segment of your Customers based on Asset types associated with their account. This is useful if you're wanting to build good rapport with Customers by sending them information about a vulnerability effecting a certain device type or you want to try to upsell Customers by offering an upgrade from Windows 7 to Windows 10 before security support for Windows 7 ends in 2019, for example.
To set up an Asset search:
Open up Marketr by going to More > Marketr or clicking the Marketr tab from the navigation bar at the top of your account if you've placed it there.
Click the "edit" icon on one of your email campaigns.
Scroll down to the "Optional/Customer Search List" section of the campaign details page.
Click the "plus" symbol next to the "RMM Asset Search" field.
Follow the steps to create your search based on OS, RAM, etc.
Click "save."
The saved search will now appear in the dropdown menu next to the "RMM Asset Search" field, along with any previous saved Asset searches you may have.
You may also create, edit, and delete your Asset searches from within the Assets module of RepairShopr. Any searches created in Marketr will appear in the Assets module of RepairShopr and any searches created in the Assets module will appear in Marketr!
From the Assets module, click the green button here to expand: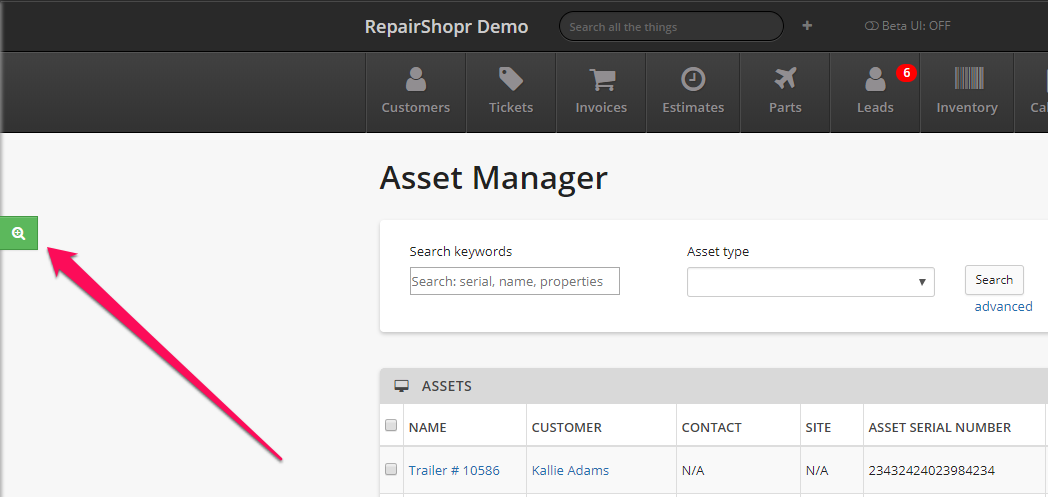 Edit/delete your current searches or create a new one here: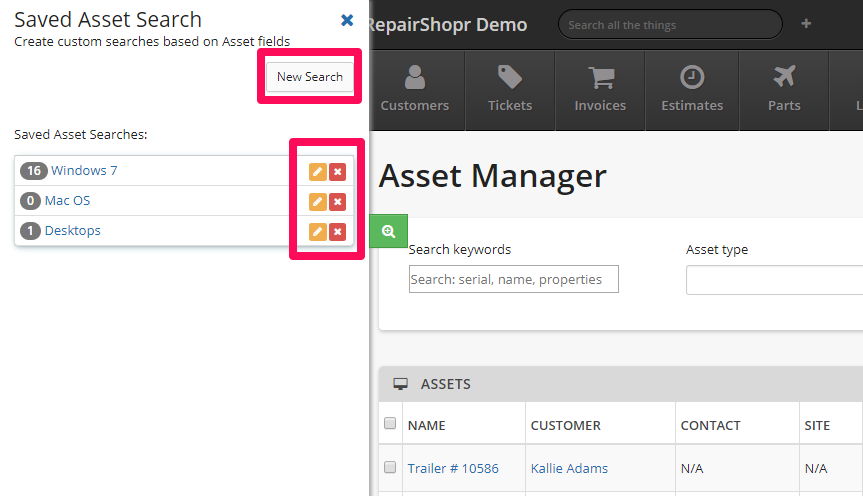 Pro Tip #1: Asset search is currently available for Kabuto RMM only right now, but we will be expanding this to other RMMs as well!
Pro Tip #2: If you wish to use a Customer saved search along with an Asset saved search within a single campaign, any Customers who meet the criteria of
both searches will be de-duplicated prior to the email sending, so your Customers won't receive the same email twice!
Sending emails to Customer Contacts
You can now send emails to Contacts, in addition to the primary email address listed in the Customer account in RepairShopr! To enable this, simply open up any of your email campaigns and check-mark the "Send to Contacts" box in the Marketing Campaign Detail page.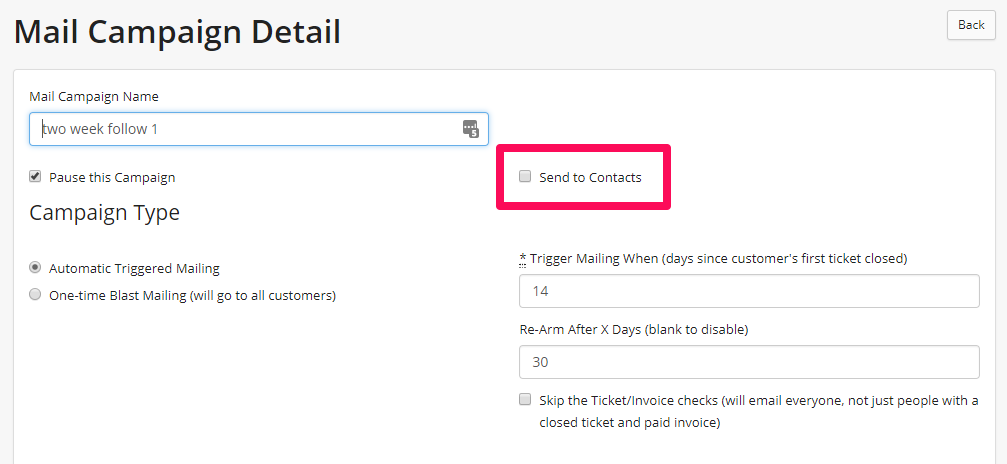 Newly added email campaign stats
We're happy to share that after hearing valuable feedback from the community, we now have more detailed campaign stats available to help you understand and improve your email campaigns.
To view a campaign's stats, click the stats button next to the campaign you wish to open from within the Marketr module:

If you've been using Marketr since we released it back in 2012, you should be able to view these stats for nearly every campaign you've run in the past!

To see all of these updates in action, check out our Feature Friday video here:
If you'd like to learn more about these updates, plus how to enable and run campaigns, you may also check out our Knowledge Base article here.
We look forward to hearing what you think. Have a great weekend!
– The RepairShopr Team