Hey RepairShoprs – Happy Feature Friday!
This week we have not one, not two, but three RepairShopr updates to share with you. In short, you can now require employees of your choosing to utilize the Time Clock feature, export Product Instances data to a CSV file, and get notified anytime a Customer updates their stored payment method within the Customer Portal.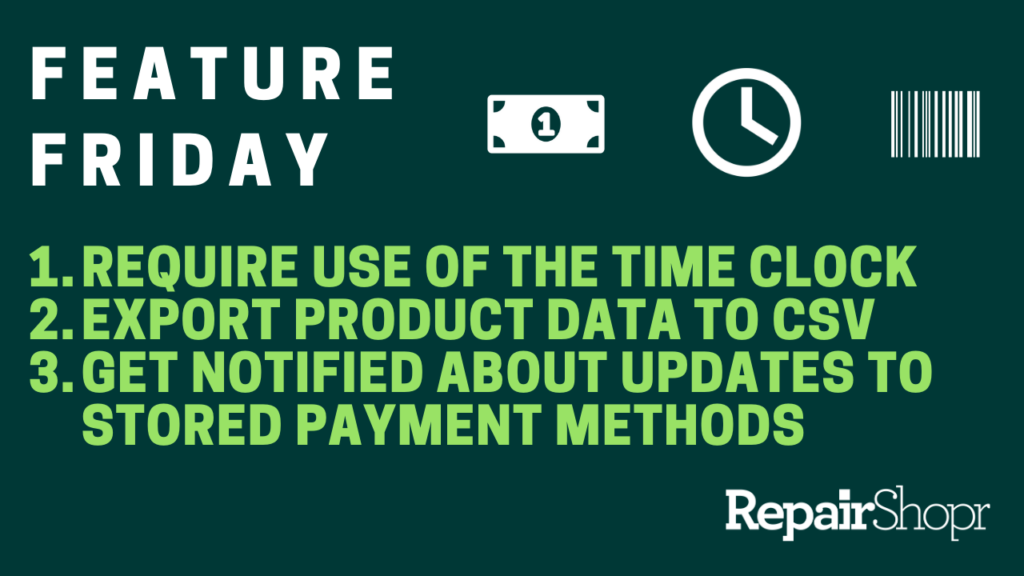 Time Clock Required
For those of you who'd like to require your employees to clock-in when utilizing RepairShopr, you can now enable this setting on a per-user basis! To select which employees you'd like to administer this setting for, as well as the method in which you'd like them to do so, head to your Admin settings, then "Users." 
From here you can click the "Details" button next to the employee of your choosing and you will see the new field titled "Require user to use Time Clock" on the User Details page. You can choose to prompt them upon becoming active or have them prompted every 5 minutes.
Pro Tip: If a user doesn't clock out before logging out of their RepairShopr account, upon logging back in the next time a modal will appear that gives them the option to stay clocked in, or to retroactively clock out and clock back in. The clock-out time we suggest is our best guess, based on the time the person logged out of their RepairShopr account the time prior.
Learn more about the Time Clock in our Knowledge Base article here.
Inventory
You can now export Serialized and Maintain Stock Product Instances from the Inventory module to a CSV file. Simply click the Export button that now appears within the "Product Instances" section of your Inventory and download a file with all of the Product Instance data.
Learn more about the Inventory module here.
Notification Center
You can now choose to be notified when a Customer updates their stored payment method within the Customer Portal. There is a 5 minute waiting period between the time the new card is entered and when you will be notified in order to prevent spammy notifications. 
To enable this setting, head to the Notification Center and locate the new "Payments – A stored card was updated in the customer portal" option. Select how you'd like to be notified and save your settings!
To understand more about the Notification Center within RepairShopr, check out our Knowledge Base article here.
To view these updates in action, check out our video here:
We hope you enjoy these user-requested updates and look forward to bringing you more soon.
– The RepairShopr Team