Hey RepairShoprs – Happy Feature Friday!
Today we released an update to the Ticketing email system within RepairShopr.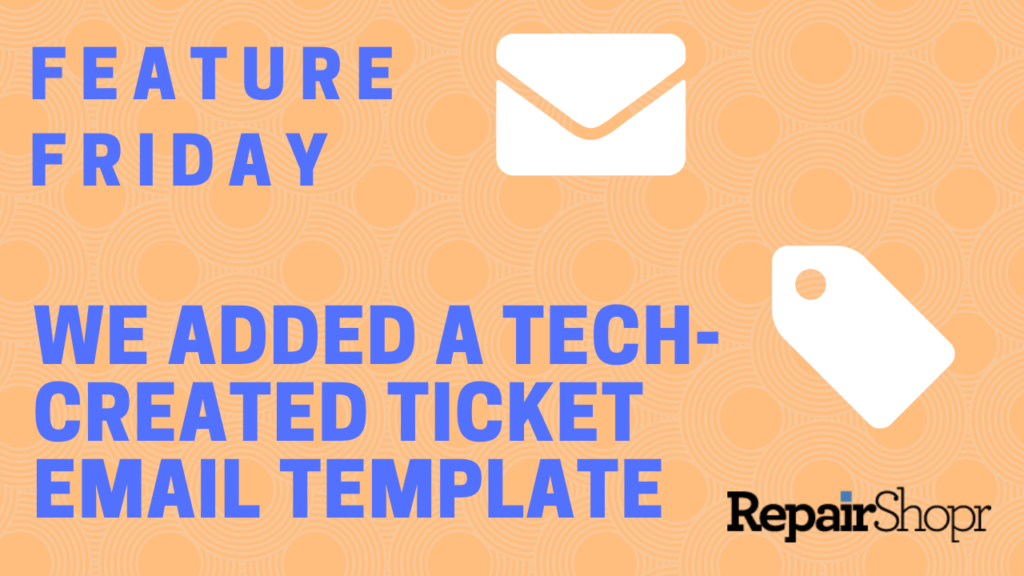 We created and released a new email template in order to better address the situation where you or one of your team members creates a Ticket on behalf of a Customer, instead of the Customer creating a Ticket for themselves. This new email template — "Ticket Created Email" — is intended to notify the Customer that a Ticket has been created on their behalf.
Prior to this update, the "Ticket Comment Email" email template was used in this situation as well as when a Customer created a Ticket for themselves, which created some confusion for Customers due to the content of the email. Now, there are separate email templates used depending on who created the Ticket: a user on your account or a Customer.
Pro Tip #1: If you're an existing RepairShopr user, the New Comment Email template and the newly released Ticket Created Email template currently have the same content. Follow the instructions below in order to edit each template to your liking and make the messaging clearer for your Customers. If you created your RepairShopr account on or after today (January 31, 2020), your Ticket Created Email content implies that a Ticket has been created on the Customer's behalf. You can follow the instructions below to edit this content to your liking.
To edit and enable this new Ticket email template:
Head to your Admin Center and click on the "PDF/Email Templates" link in the left-hand column. 
Select the Email Templates option and locate the "Ticket Created Email" in the table. 
Click the Edit button to adjust the template to your liking. 
Be sure to save your changes!
Pro Tip #2: Please note that the logic here has changed so that the Ticket Created Email option is used when you or another user on your account creates a Ticket on behalf of a Customer. If a Customer creates a Ticket for themselves, the Ticket Comment Email will still be used as it always has been. These templates are automatically turned on for all RepairShopr accounts.
To view this update in action, check out our Feature Friday video here:
You can also reference our PDF/Email Templates Knowledge Base article for more detailed information about this option. 
We hope you enjoy this user-requested update and look forward to bringing you more improvements soon.
– The RepairShopr Team