Hey RepairShoprs – Happy Feature Friday!
This week we are highlighting two Quality of Life enhancements we've made to RepairShopr.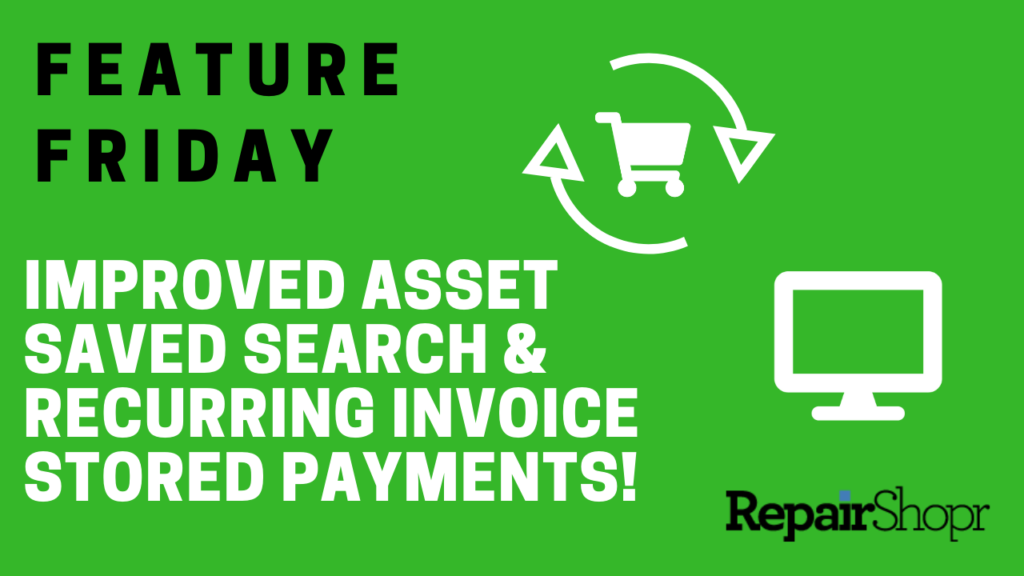 Improved Saved Asset Search
We've made some user interface changes to the Asset Saved Search feature within the Assets module in order to make the process of creating a saved search easier. We also added a new powerful way to utilize Asset data in your searches, by way of "property conditions." Now, after selecting the Asset Type from the new Asset Saved Search modal, you can use the "Add Property Condition" button to select from a variety of information regarding the Asset.
This can be a very useful way to generate more revenue for your company. For example, you can create a search for Assets of a certain Operating System or year and use the Marketr feature to then upsell your Customers on a newer version of the OS or device.
Learn more about this module in our Assets Knowledge Base article.
Stored Payment (Credit Card) Update within Recurring Invoices
You can now easily see which Recurring Invoices are set up with Stored Payments (credit cards), as well as the status of those Stored Payments (i.e. Active, Expired, Unknown and ACH if you have this feature enabled). This gives you the ability to more quickly and easily stay on top of your billing, ensuring that problematic Stored Payments are receiving attention and all billing is running smoothly.
Learn more about the Recurring Invoice module here.
To check out these updates in action, feel free to watch our Feature Friday video:
We hope you enjoy this update and look forward to bringing you more user-requested updates soon!
– The RepairShopr Team