Hey RepairShoprs – Happy Feature Friday!
This week we're sharing several updates to the platform, all based on user feedback and requests.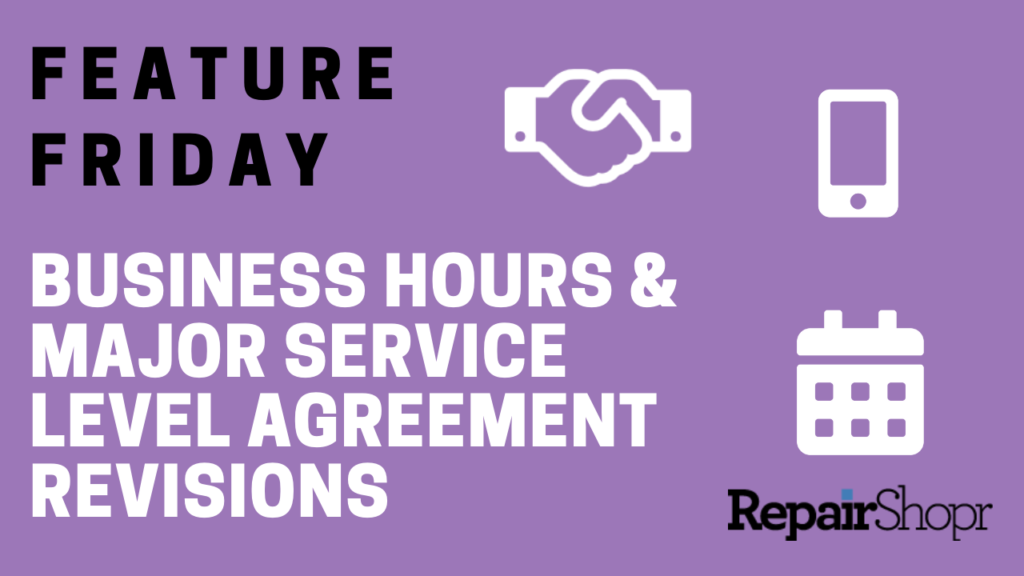 Business Hours
Head to the Admin Center within your RepairShopr account and click on the new link toward the top of the left-hand column titled "Business Hours." From here you can choose to enable this feature, set the appropriate business hours for your company, utilize the newly added Holiday Calendar, and save your changes. 
MAILBOX OPTIONS
There's now a new setting in Mailboxes to optionally send an auto-response to inbound email/Leads when outside of your Business Hours.
SMS UPDATES
We've also enabled an option for your SMS messages to adhere to your Business Hours and Holiday Calendar. Head to Ticket Preferences within your Admin Center to check this option out.
Holiday Calendar
We've added an option for you to enable a Holiday Calendar in order to automatically mark holiday dates as "closed" on your calendar from year-to-year, ensuring that your Customers don't schedule anything on these days via widgets or other means. 
Simply select a Holiday Calendar option from the list of options provided on the Business Hours page and click "Save." If you then click the "Holiday Calendar" button in the upper right-hand corner of the page, you will see a list of pre-populated holidays that you may enable or delete in order to automatically block these dates off in your calendar. You can also create custom holidays from this page. Be sure to save your changes!
APPOINTMENT BOOKING
You can also choose to utilize the Business and Holiday Hours schedule when using the Appointment Booking feature within RepairShopr.
SEVERAL SERVICE LEVEL AGREEMENT UPDATES
We've updated Service Level Agreements (a part of the Contracts module) in various ways. First, you will notice a new "Status" column from the main SLA index page. You can now also pause individual SLA timers from this page and pause all SLAs globally. 
Furthermore, when creating a new SLA, we have added several new options to the creation page. Check out the video below for more details on these newly added options, such as SLA breach warnings tied to Notifications, Business Hours tied with SLA Ticket Timers, and pausing your SLA countdown by Ticket status. 
TICKETS AND SLAS
If you head to the Tickets index page, you will notice that the Ticket icons for Tickets associated with SLAs now have a few different color options. Red indicates that you're in breach of an SLA, and clicking further into the Ticket or Quick View Modal will tell you exactly what the overage is. Yellow indicates you are approaching an SLA breach. Black indicates that you're within the SLA limits. 
To see these changes in action, view our Feature Friday video here:
You can also reference our Business Hours Knowledge Base article for more detailed information on this feature, as well as our Contracts Knowledge Base article for more information on the SLA updates. 
We hope you enjoy these new powerful updates. Happy repairing!
– The RepairShopr Team