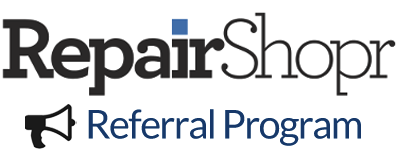 It's RepairShopr's 3 Year Anniversary! And to celebrate we're launching a Referral Program through the end of July!
Now you can refer your friends, clients, neighbors, or anyone to RepairShopr and we'll give you 20% off per month! 
How it works

When you refer someone to RepairShopr and they sign up, just contact us so we can get you recorded as their referrer. Each time their subscription renews we'll credit you 20% of their plan price toward your next invoice with us.
As long as you're both active RepairShopr users, when their subscription renews we'll calculate 20% and put that on your account as a credit!
As an example, let's say you're on our Repair Shop plan for $99.99 / month. You refer your friend Joe to RepairShopr and he signs up for a Repair Shop plan. You'll now get a $20 discount on your monthly plan as long as Joe continues on his plan. If you refer 5 clients or friends to RepairShopr, your plan is free!
The RepairShopr Referral Program applies to any user that signs up for our standard priced plan. The referral program is for any new sign ups but doesn't apply to previously referred users.
Learn More
We've add an app card in the App Center (just go to Admin > App Center) that provides the full details. You can also read our FAQ on the Referral Program here to find out the full details.
Many thanks to everyone for your years of support and for making RepairShopr the best repair platform out there!